IIT JEE Main & Advanced Examination Pattern
The preparation for IIT JEE Main & Advanced only becomes more streamlined once you get to know how these tests are designed. Go through the IIT JEE exam patterns and make the most out of it.
JEE Main Exam Pattern:
JEE Main examination comprises of 2 papers namely-Paper 1 and Paper 2. From 2019 onwards, National Testing Agency (NTA) will be conducting both the papers twice a year in an online mode. In accordance with the official notification at nta.ac.in there aren't any changes expected in JEE Main Exam Syllabus and pattern.
JEE Main (January session) shall be held from January 6-20 in eight sittings and the applications would be accepted online from September 1, 2018, onwards.
The April Session of JEE Main 2019 is scheduled to be held from April 6-20.
The Paper 1 would include 3 sections namely Physics, Chemistry and Mathematics while, Paper 2 would have the 3 sections namely-Aptitude Test, Mathematics, and Drawing Test.
Candidates can take either one or both the papers of JEE Main. The duration of the examination is three hours.
4 marks would be awarded for every correct answer, while 1 mark would be deducted for every wrong answer.
JEE Main Exam: Past Trend
CBSE used to conduct the past JEE Main exams.
Paper 1 of JEE Main was held in both online and offline modes.
JEE Main Paper 2 was conducted in offline mode only.
CBSE used to release the Mock Tests for the examination.
Highlights of JEE Main Important examination pattern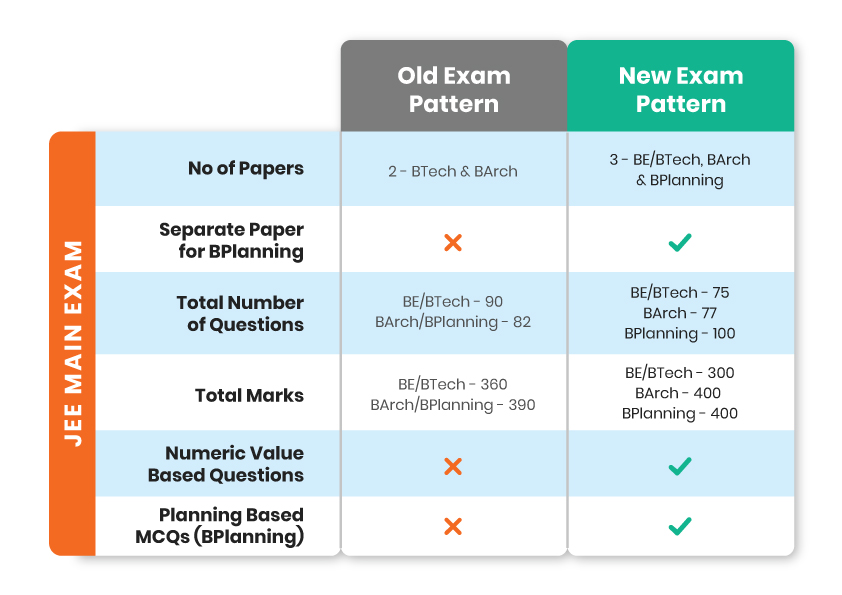 Type of Questions:
Medium of Exam:
Marking Scheme
Correct Answer +4 mks
English, Hindi and other regional languages
Incorrect Answer - 1/4 mks
JEE Main Exam Pattern - Paper 1 (B.Tech/B.E.)
JEE Main Paper 1 would be held in Online mode
For January Session, the examination is scheduled to be held from January 6-20.
As per JEE Main Brochure, exam pattern of JEE Main Paper 1 the details of the examination are as follows:
Sections/Parts

Part I-Physics
Part II-Chemistry
Part III-Mathematics

Number of Questions-90 questions in every section comprising of 30 questions in each section.
Nature of Questions-MCQs
Mode of Examination-Online (CBT)
Duration of Exam-3 hours and for Candidates with Disabilities:-4 hours
Medium of Exam-The Examination papers can be answered in Hindi and English. For centres in Gujarat, Daman & Diu and Dadra & Nagar Haveli, the medium of the exam can be answered even in Gujarati.
Marking Scheme-For every correct answer, 4 marks would be awarded while for every wrong answer 1 mark will be deducted.
The distribution of questions with marks is tabulated below:
| Subjects | Maximum Questions | Maximum Marks |
| --- | --- | --- |
| Physics | 30 | 120 |
| Chemistry | 30 | 120 |
| Mathematics | 30 | 120 |
| Total | 90 questions | 360 marks |
JEE Advanced Exam Pattern
The online JEE Advance Exam consists of 2 papers i.e. Paper 1 and Paper 2. Both these papers i.e. Paper 1 and Paper 2 are compulsory.JEE Advanced was being held in offline mode till 2018 though from 2018 the exam would be conducted in an online mode.
Based on the past papers, it is fair to say that the JEE Advanced exam is one of the most unpredictable entrance tests in India. As a matter of fact, the total marks, the total number of questions and the type of questions, everything is uncertain. The JEE Advance Exam is conducted by a different IIT every year. The exam paper is changed by the IIT which is going to conduct the test, every year and it is also found that no major changes have been made in the exam pattern in the previous years. Thus, like the previous years, it is expected that marking pattern of the exam would have full marking, partial marking, zero marking and negative marking.
Exam Pattern for 2019
Date of Exam:The exam will be held during the month of May 2019.
Exam Mode:The IIT JEE Advanced exam will be conducted through an online (Computer Based) mode only.
Number of Papers:The examination is expected to consist of 2 papers. It is mandatory for the candidates sitting for the JEE Advanced Exam to attempt both the papers.
Number of Sections:The JEE Advanced Paper 1 and Paper 2 would have 3 separate sections i.e. Physics, Chemistry, and Mathematics.
Question Paper Type:The question papers will contain objective type that includes single and multiple MCQs as well as numerical answer type questions.
Exam Timings:The total duration of Paper 1 would be 3 hours and Paper 2 will also be 3 hours. The expected timings for paper-1 will be from 10:00 a.m. to 1:00 p.m. and for paper-2, the timings are expected to be from 2:00 p.m. to 5:00 p.m.
Language:The candidates can answer the question papers in both English and Hindi medium though the candidates need to mention the medium of the question paper medium at the time of registration.
Marking Scheme:As has been the case with previous year papers, there is a procedure of negative marking expected for some of the questions.
Marking scheme of Previous Year Papers:
2019
JEE Advance Paper 1 Marking scheme
| Section | Question type | Marks awarded | Negative Marking |
| --- | --- | --- | --- |
| 1 | Single correct answer | 3 | -1 |
| 2 | 1 or more correct answer | 4 | -2 |
| 3 | Single digit integer | 3 | 0 |
JEE Advance Paper 2 Marking Scheme
| Section | Question type | Marks awarded | Negative Marking |
| --- | --- | --- | --- |
| 1 | Single correct answer | 3 | -1 |
| 2 | 1 or more correct answer | 4 | -2 |
| 3 | Comprehension type | 3 | 0 |